Sketches from three years ago used as reference for this paper collage. Agamas, though absolutely
everywhere in Nigeria, never let you get close, and these two females looked down on me with
confidence, verging on smugness, knowing they could dash away at lightning speed.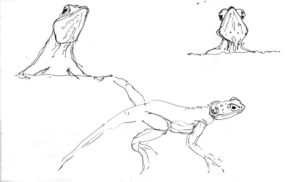 I've recycled pieces of what was a 'failed' watercolour painting (we've all got them…), in this case
a landscape of a wheat field and evening sky, to hint at the texture and colour of the lizards atop
the garden wall in Osogbo. I omitted the actual wall, as I wanted to concentrate the viewer's
attention on the lizards under the huge banana leaf. It may have been interesting to include
some shards of glass for a spot of urban realism, but I decided against it. For the impression
of bright sunlight bouncing off of every surface, it seemed 'less is more' was the way to go.