A short flight with local airline Air Peace and we touch down (as the only arrival today)
at Sir Ahmadu Bello International Airport, Kebbi in the north-west corner of Nigeria.
Stepping out of the plane, a wall of heat hits me as I notice how smart the new glass and steel terminal building looks, set in a flat landscape of short green bushes and butterscotch and peach coloured sand. Our driver Sanusi is waiting for us with a dark blue pick up truck he is somehow dwarfed by. I realise this is similar to some government vehicles and so draws attention from pedestrians.
We are guests of Jumoke, Toyin's sister. She is an imposing, handsome woman with
the kind of physical presence which leaves you in no doubt who the boss is. Fluent in all three major Nigerian languages and with fingers in many business pies, she is addressed as 'Momi'  by all who work for her. It is convention here to use terms such as Auntie or Uncle, Sistah or Brudda etc, depending on the persons' age in relation to yours, or if you come from the same village. It is unnerving however, to be called Daddy by someone you've only just met.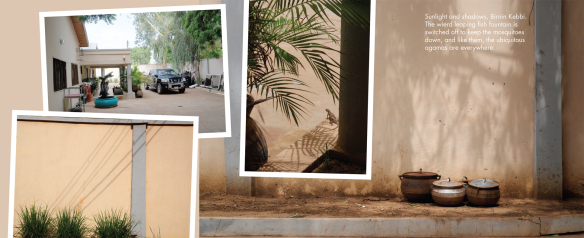 After freshening up, chicken rice and spinach is served, followed by water melon
and pineapple. Later in the evening, a visitor arrives and there is a discussion about
leases, land and mining. Mining is one of many business pursuits for Jumoke, and the main reason she upped sticks and moved here from Abuja. The man brings out an uncut ruby which we place on a smartphone lamp to see the bright magenta colour shining through. It looks curiously like a fruit gum, or a chunk of turkish delight, but is indeed
the real thing. The sapphire he had looked more like a grey pebble you could pick up on
a beach, and a little imagination was needed to picture these stones in a cut and polished state. Most impressive though, was a polished gold nugget, the size of a Brasil nut,
and I'm certain it weighed the same as the coffee table.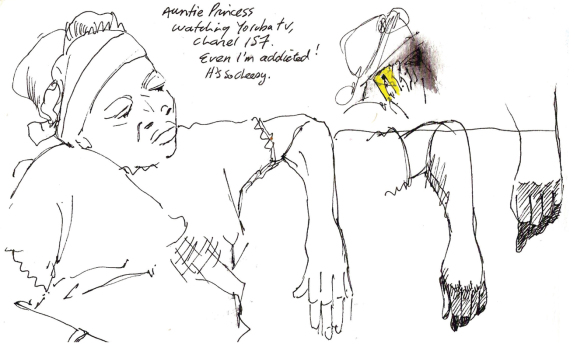 The same wall of heat hits me after dark as I step outside to make my way to our apartment. By lamplight, I see one or two moths, but dozens of large cockroaches
spread around on the concrete yard, on the walls and on tree trunks. I step back
indoors very carefully to avoid an unfortunate crunch.
In the morning, some distinctly unmusical parrot-like squawking in the Neem trees outside turns out to be a pair of Long-tailed Glossy Starlings. Back in the seventies,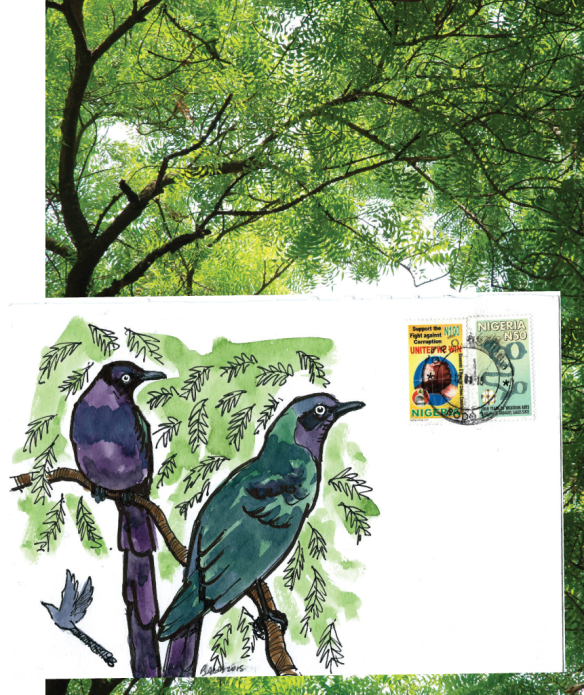 I was familiar with these birds from 'The Handbook of Foreign Birds', where they were described as not for the novice, and could be quite aggressive towards weaker inmates
in a mixed aviary, so best kept on their own or with other glossy starling species.
There is a certain air of confidence about them, something of the pirate, too.
More than forty years later, it really is satisfying to see these (and other) birds in the
wild, which were forgotten memories from the pages of a book. Happily these were to
be a common site on car journeys for the week, regularly seen flapping from bush to bush carrying their very long tails behind. I make a postcard of them, and of the cooking pots
in the yard.