The first business of the day is to buy air tickets for our flight to Lagos. Once reserved over the phone, we buy the tickets at the bank using cash. At the ATM, the N60k needed plus another N20k for later gives me a fat wallet which I give up trying to close, it's only a short walk after all. The revolving door 'capsules' are supervised by an attentive security guard in paramilitary style uniform, and I can't help thinking if they also serve to keep the sand outside. Inside the bank there are a dozen or so men standing and sitting waiting for
this or that.
Most staff are dressed western style and very smartly, with many busy conversations ongoing at once, unlike a western bank which in contrast seems to be a place of orderly silence. Although there are computers, things written on paper are still an important part of proceedings here. We are ushered through to a back room where we will hand over our cash. There are piles of paper files, counterfoils and banknote wraps strewn here and there and our money is counted by an old but very serviceable counting machine. We pass back through the tiny revolving capsules and back out into the blazing sun.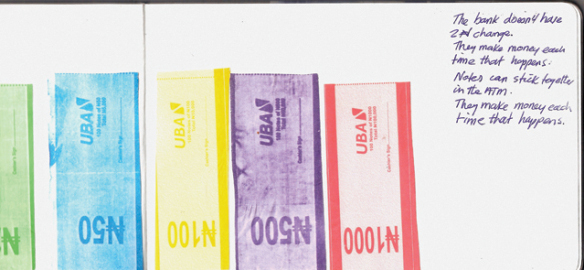 Friday August 7th. Today we are leaving for Lagos, our flight stopping over briefly in Abuja. We have already met Babangida, a handsome and tall quiet man smartly dressed Hausa style, who has offered to take us to the airport as his wife Amal and young son Muhammed are also on the same flight. We leave on time in his new silver Toyota pick up and head off to the Sir Ahmadu Bello International, where ours is the only flight leaving today. There are many hands to make light work of helping you through the check-in process. They seem to be sharing one pen. The double height hall is light and modern with polished flooring reflecting the officials looking on from a balcony.
The check-in instructions are hand written on a large yellow card taped to the side of the desk, and I assume they haven't finished implementing the signage program. As usual there are men wearing combinations of paramilitary uniforms with epilettes, berets and desert boots, and nearly everyone else, whether staff or passenger, is dressed in native style. Even me. I'm wearing a new smock style kaftan and matching trousers (one size fits all) in subtley patterned lavender grey waxed cotton with intricate embroidery around the neck and collar, finished off with my black velvet fila hat and suede loafers. I opted for this garb instead of western clothing as it's going to be a long hot day. I was right. Through the security checks and sat in the empty departure lounge, I see the agama lizards outside casually owning the rock landscaping that line the path to the concrete apron. The plane will be a while yet. I don't think the lizards are at all bothered.
We duly arrived in Abuja, but our plane was then diverted to Calabar (with our luggage still on board) to bring stranded passengers back to the capital, as the sister aircraft had mechanical problems. This made our one hour stop-over more like five hours. Amal decided it might be best to pray while we waited, and left Muhammed and her luggage with us. After an hour she hadn't returned, and I began getting a little anxious. We decided to go on up to the domestic departures lounge anyway, as she would presumably just follow on in her own good time. The young security guard at baggage check signalled me over, and as I began to raise my arms for the inevitable frisk down, he said "No, no… I like your attire"  "Oh, right.." I said in relief, as I had fully expected "Have you packed this bag yourself sir?" which of course I hadn't, and might have been slightly awkward to say the least.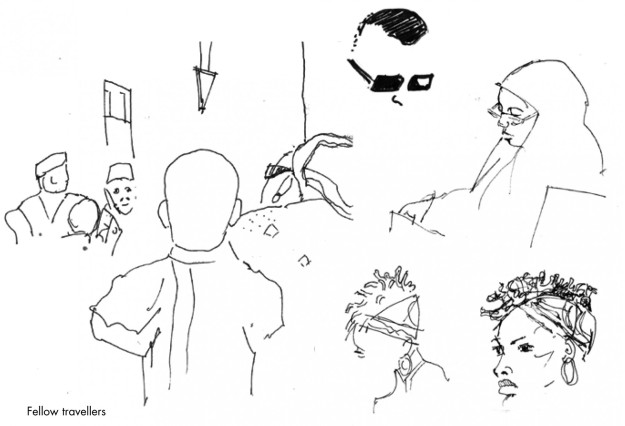 Several people commented on my garb, and curiously they all said exactly the same words as the security guy. I even posed for photos once. When we finally discovered our plane was boarding (it wasn't at all obvious, a flaw that needs sorting out, airport management please note..), much fuss was created on the tarmac while we identified our luggage. The trick is to physically point at it and make sure the staff notice you, stating your destination at the same time. For the paranoid, watching them actually take it across to the luggage doors on the aircraft is a useful extra measure. If not shepherded in this way it will not be stowed, the assumption being it's destined for another plane altogether, and could then be as good as lost.
One of Amal's bags was coming apart, it was a large carrier bag with handles, the type issued by superstores, and taped up. There were fresh moringa leaves spilling, holding up the flight a further ten minutes while tape was sent for. Eventually the bag was repaired to the satisfaction of the staff and we were on our way. Forty-five minutes later and as dusk approached, we landed at the cosmopolitan sprawl that is Lagos, now dubbed the Dubai of Africa. Outside, moths fly around the bright lights and in the noticeably humid night air a small scrum of boys are more than willing to help you with your luggage (if you let go of it, someone will literally take it from you and head on to the taxi rank, such is the urgency to earn some dash). Arrangements had been made for us to be collected and driven to our accommodation for the night with Rita, a relative, and we said goodbye to Amal and her son as her father-in-law loaded the trunk of his car with her moringa leaves. Tomorrow we will return to Osogbo but first, starving as I am, I will have to negotiate some Egusi soup.