Find me a flower
Back at the house, everything is getting a lick of paint ready for the wake-keeping and guests. The blockwork perimeter fence (all boundaries are called fences here, even if it's a wall) are being rendered and painted a uniform light grey, and posters of Baba are being spaced along its length, inside and outside. In the yard, there is a narrow planted border held by kerb stones painted alternate black and white, which really needs some extra plants to fill in a few gaps.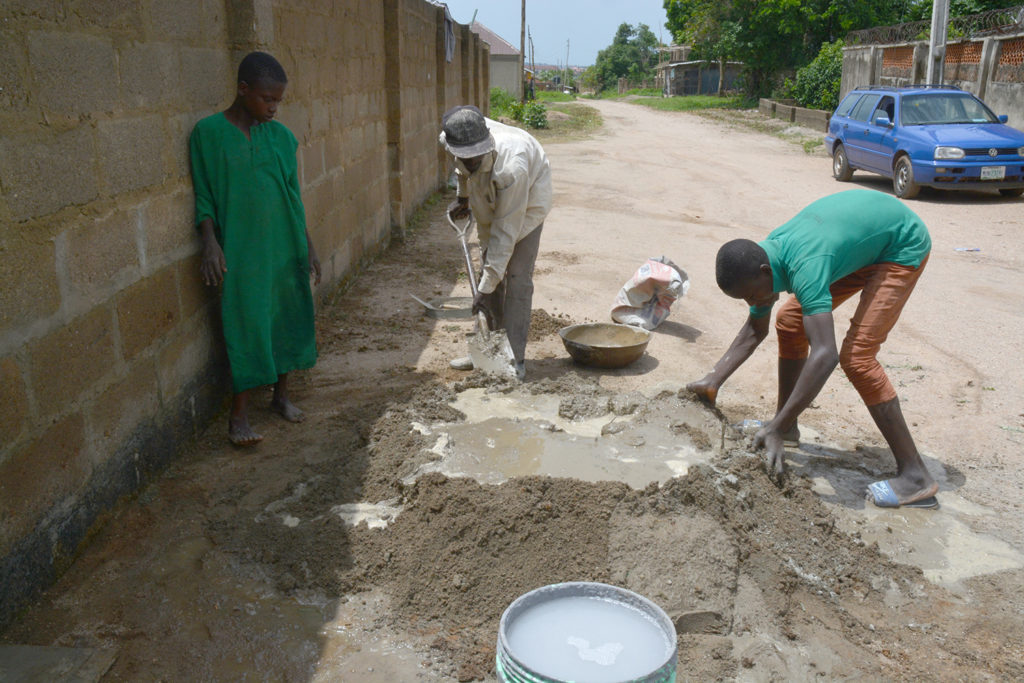 We need a garden centre. Is there such a thing in rural Osun? The nearest thing we will find are the roadside plant sellers, with their collection spread out under the cool shade of trees, with flowers and shrubs for sale grouped in rows and blocks for ease of watering. We take Suraju with us to a plant seller on the outskirts of town. We pull up on the side of the road and a girl approaches. We explain what we're looking for and are invited to have a good look around.
The terrain was a little tricky so Toyin stayed in the van. I'll have a look around, take snaps of likely candidate specimens on my smartphone, and back at the car we can negotiate a price. As a method it worked well, overcoming some language difficulties at the same time. Everyone informed, very democratic.
The plants are laid out on a slope partly shaded by trees, across a shallow ditch running with clear water. Some tadpoles are floundering on the plank which dips into the water as I put my weight on it. I rescue them by carefully flicking them back into the stream, and point them out to a young girl standing close by. I can tell she thinks I'm crazy. There are large sculptures for sale, of dinosaurs (Godzilla, really), ostriches, and what appears to be a group of World War 1 life-size soldiers. Close inspection reveals them to be a type of concrete render over a fibreglass base. Not sure I'd have one but they do have a certain quirky charm.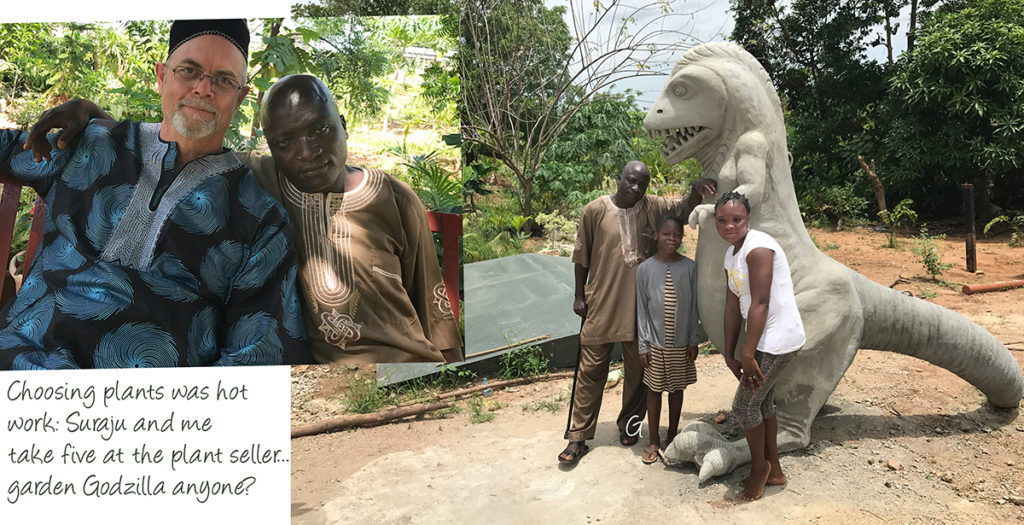 We also need palms and potted plants to give the house a finishing touch ready for the visitors. Also a good idea for the family house in Isale Osun, but we figure we can hire those, even though they may be eaten by the goats.
The soil at the house would benefit from any manure we could find to give the new plants a boost. Suraju makes a call. On our way into town he directs us down this street and that until we pull over at a point he has arranged to rendezvous with a couple of middle-aged men in traditional attire who are carrying shovels. The three of them are in animated conversation in the back of the mini-van as we arrive at the top of the road leading to the Osun Sacred Grove.
It is dusk, and the light is fading. We pull up over a stream winding its way through the undergrowth and litter. One of the men descends (nimbly, for his age) down the steep embankment and begins clearing a patch to access the silt underneath, bagging it as he goes, complete with bits of plastic rubbish. This is our compost, and will serve us well. Perfect material to give our flower borders a nutritional boost. The men disappear off back to their neighbourhood on foot after loading the bags and saying goodbye. Job done.
Night Drive
As we are near the entrance to the Osun Grove, we take the opportunity to drive through and out the other end, on what is oddly called Osun Grove Street, passing through water and deep muddy potholes, out to the unfinished outer ring road. I'm keen to walk this road one day, so it would be useful to see where we eventually come out. A couple of times Suraju gets out of the van to physically check the best way past various hazards.
It is very nearly dark by now, which only adds to the atmosphere, the magnificent trees silhouetted against the purple and indigo last light in the sky. Scattered houses show themselves by their square yellow lamplight. There is no knowing how far away they are, or what nocturnal forest dwellers are in between. Some bats and all sorts of moths and bugs pass in and out of the lamplight as we make our way down the ochre yellow dirt track that eventually leads us onto the new ring road and back into town. To me this is all very exciting. and I absorb everything like an enthusiastic schoolboy, and get to know a little more about the territory and its wildlife. Home for pepper chicken, bitter leaf, sweet potato and a chilled mango. If there are any left!