I'm standing on the balcony of the newly named Entrepreneurship Development Centre, Emir Haruna Road, Kebbi. Directly opposite is a door and gatemaker's yard. There seems to be a standard size, with most having quite intricate patterns welded on to the panel faces. The sun is high and the shadows are short. A hawk swoops by fast and straight across the road and disappears over the trees. Could have been any one of a dozen or so species, but the silverbill finches in the small tree in the yard remain undisturbed.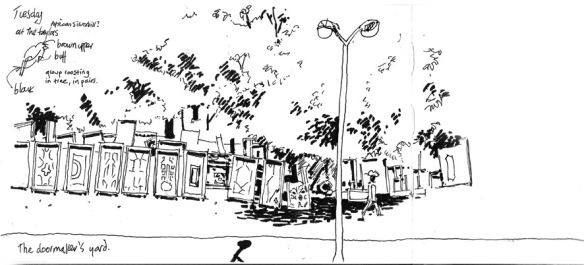 A man passes by dressed entirely in white with a white tray on his head, too far away to see what was in the tray, suffice to say it was also white. The finished shiny doors catch the sun as they lean on the perimeter fence on display, and the occasional welding flash erupts from the rusty stacks of sheet metal in the yard, shaded by the Neem trees.
The Centre is set up to give young people a helping hand setting up their own art and craft business, anything from shoemaking and beadwork to basketry and jewellery. The taylors are the main focus though, and have been brought here from Osogbo in the South to expand their business. They have a full order book.
Something of a hub of operations for Jumoke's various business endeavours, the Centre is being visited today by the Kebbi State governor's wife, Doctor Zainab Atiku Bagudu. Thanks to some frantic phone calls and last minute changes of schedule in response to the (inevitable) short notice her PR team gave, everything is in place to show off the products and talents on offer. She is due to arrive at ten. Five hours later an advance security detail appears and gives the layout and exits a once over and quietly informs us the official cars will arrive within the next half hour.
I watch from the balcony as the motorcade overshoots, reverses up the road and pulls in to the forecourt, all this maneuvering causing them to temporarily close the road while the vehicles assemble. Across the road boys on machines with their pillion passengers stop to look on. Half a dozen soldiers step out of their black SUV, and are directed to the perimeters of the forecourt by their commander who looks pretty cool in his dark glasses and beret. At this point I move inside to be on hand as the governor's wife and daughters with entourage and photographers duly arrive upstairs and their tour begins. The whole place is suddenly jam packed with colourfully dressed ladies with their PR contingent taking photos and video on various cameras and tablets.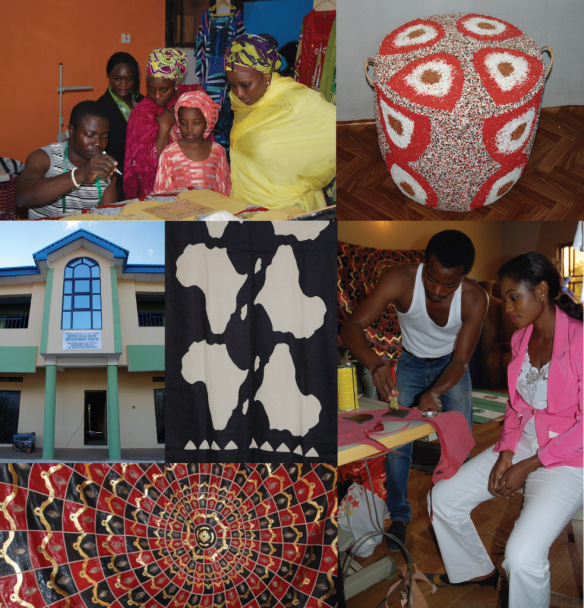 I am introduced as a foreign visitor and only just managed to remember the Islamic etiquette to not shake hands, but not before my arm flinched upwards. Thanks to a very discreet slight body movement as a prompt from Dr. Bagudu my arm stayed down. I'm sure only the two of us noticed! As the cameras turn my way she asks "And have they shown you some interesting places around Kebbi?" "Yes we visited the Argungu fishing village yesterday which was…"
I started to reply, not finishing my sentence as she turned towards the cameras and staff taking down notes, "I was brought up in Argungu" she proceeded, recounting a childhood detail. I could see how well Dr. Bagudu was versed in the whole meet and greet side of being a public figure here, and how cleverly she turned the question into a self
promotional anecdote for the cameras. I also appreciated how carefully managed
these things are, despite the (again, inevitable) schedule overrun.
When it was time to leave, a group of people were waiting by the vehicles for handouts. News travels fast around here, I thought, as it seemed only half an hour or so had passed since they first arrived. "I hope you enjoy the rest of your trip" Dr Bagudu said with a smile as I took her photo. "I'm sure I will" I confidently replied. Lengthy goodbyes were exchanged and everyone climbed back into their respective vehicles and left. The whole visit was chalked up as a success.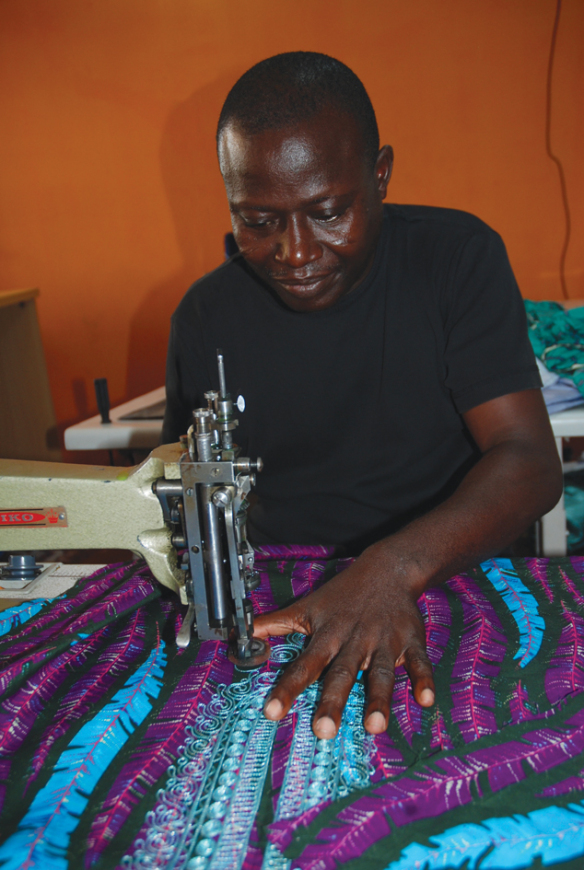 Earlier today we bought tickets for our flight to Lagos. Once reserved over the phone, we buy the tickets at the bank using cash. At the ATM, the N60k needed plus another N20k for later gives me a fat wallet which I give up trying to close, it's only a short walk after all. The revolving door 'capsules' are supervised by an attentive security guard in paramilitary style uniform and I can't help thinking if they also serve to keep the sand outside. Inside the bank there are a dozen or so men standing and sitting waiting for this or that. Most staff are dressed western style and very smartly, with many busy conversations ongoing at once, unlike a western bank which in contrast seems to be a place of orderly silence. Although there are computers, things written on paper are still an important part of proceedings here. We are ushered through to a back room where we will hand over our cash. There are piles of paper files, counterfoils and banknote wraps strewn here and there and our money is counted by an old but very serviceable counting machine. We pass back through the tiny revolving capsules and back out into the blazing sun.