Today we drive the 200 odd kilometers due north to Kaduna. We are accompanied by Lowo, a quiet and kindly artistic soul who dyes fabrics and makes handbags as well as experimenting with painting found objects. Our trusted driver Emanuel knows his way around for the right price, and doesn't seem to need a map or sat nav. Lowo is keen to show us Zuma Rock, a pudding bowl dome of two-tone grey igneous rock rising almost vertically 725 meters up from the surrounding corn crops and green bush. Couldn't miss it.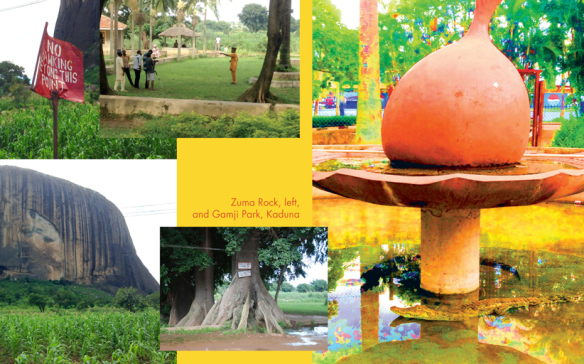 Toyin grew up in Kaduna and worked in the family hairdressing business in the town.
She plans to have her hair done while we're here and see if any old familiar faces are still around. The main reason to visit though, is that her cousin Samuel and his new wife Abigail live there. Sam comes to meet us and we drive in convoy to his house. He's very excited to see us. Cold water bottles are brought out (the unspoken first hospitable gesture when guests arrive) and lunch is offered. He insists we stay the night, which we agreed to do, and in the afternoon, while the surprised and delighted hairdresser Simon is set to work, Sam takes me around to kill time while we wait. First stop is Gamji Park, an extensive green space on the banks of the river.
The formal gardens are laid out with low walls separating the paths from tree lined green spaces, with the occasional gazebo and shrub covered arbor here and there providing places to sit in the shade. The place has a slightly unloved and dishevelled look, but seems well used by the locals. In one corner there was an r&b artist with video crew miming to his track with air grabbing, finger wagging moves encouraged by his director behind the camera. There were also groups of girls dressed identically sitting around, presumably waiting for their turn to perform their dance moves. As we watched I couldn't help thinking how tedious this process could be, saved by how snappy and cool the finished videos often are.
Elsewhere there is a merry-go-round and a lido (temporarily closed), and an enclosure that apparently once contained some ostriches. There is a magnificently odd looking giant terracotta coloured calabash fountain set in the centre of a shallow pool, with three or four local crocodiles lounging in the still water underneath in the shade. I'm reassured they actually do get fed regularly.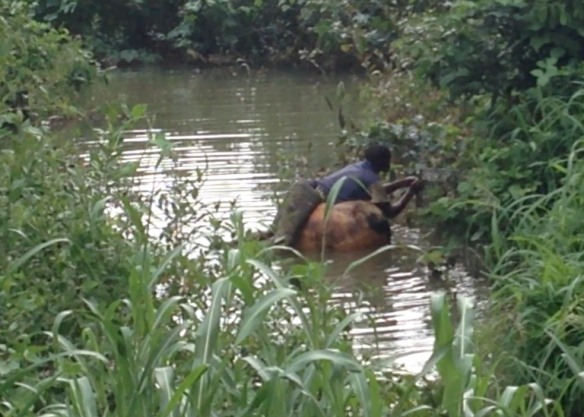 Being adventurous and naive in equal measure I opt for a short walk along the lush riverbank which entails climbing through the broken chain link fence, which I manage relatively gracefully, and largely because I hear some exotic bird calls and hope to catch a glimpse. Sadly their identity remains a mystery. We did come across a fisherman however, who seemed quite happy to show us his catch inside the hollow calabash he was carrying above his head, and to show how he uses it as a float while he paddles to check his nets. Any fish are placed inside the calabash while he paddles off to the next net. 'Are there crocodiles in the river?' I ask, mentally assessing the risk the fisherman is taking 'Yes' said Sam, adding after a short pause  '…though for a Nigerian, a crocodile is more an opportunity than a danger.' I look down at my shoes, imagining what that might mean for Lowo's handbag trade.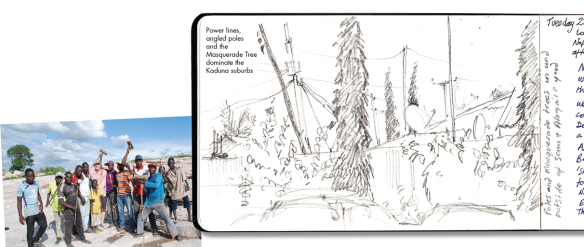 Further along, some stupendously large trees have been left to grow with their buttress roots now straddling the kerb stones in the car park. I've no idea what they were, but they seemed to rise up forever into the sky. Next stop was a quarry, where Sam buys hardcore for his building business. The young workers were I'm sure very curious about a guy being shown how they break up rocks into smaller rocks with heavy sledge hammers, but we all entered into the spirit of the thing which shows in the snaps.
At the end of the day, we stop off at one of the local markets to buy fruit. Stall after stall of fresh fruits and vegetables in sumptuous colours laid out neatly for inspection. It's getting dark now, and the market continues trading by lamplight with the mauve sky above, peppered with fruit bats making their way to night-time feeding areas. For the wide-eyed visitor, upwards of a hundred thousand large flying mammals passing daily over your town sounds spectacular but on the other hand, oh so everyday if you live here.
They're not on the menu apparently, not even as bushmeat.
After supper Sam gets out his Yamaha keyboard, on which he is pleasantly proficient, and we have an impromptu Yoruba sing-a-long. We each sing a line, and I can't help thinking mine is the hardest to pronounce. I have a go at playing the talking drum and the following morning, an attempt at rythmically slapping congas in Sam's church, which was thankfully empty apart from the caretaker, who seemed suitably amused.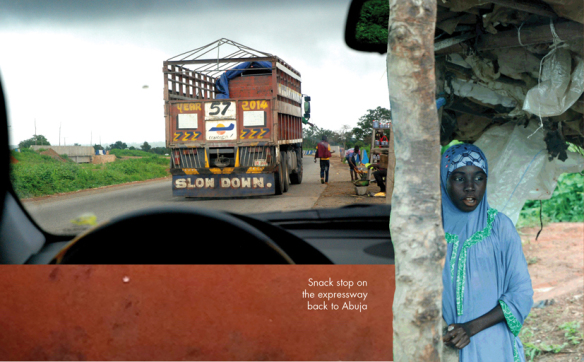 Sam and Abi are driving us back to Abuja this morning. We stop briefly for corn sticks roasted while you wait. Staying a few days with us until we leave for Birnin Kebbi turned out to be a happy decision, as we were able to spend a few more days in their good company while we figured out the best way of getting there, an internal flight or a nine hour drive.
We took the flight.