Birnin Kebbi stands on the southern edge of the semi-arid Sahel, close to the border
with Niger. Today Sanusi is driving us North to visit a working gold mine, and then
on to another, much less well developed operation in which Jumoke has an interest.
On the road out of town, the Neem trees lining the route have large puddles sitting in
their shade from last night's rain. Business is conducted under them. It's also common
to see boys taking time out, lying lengthways across their motorcycles, or machines.
A two hour drive on long straight roads, the flat landscape of leafy bushes, sand and
rock is broken by patches of corn, rice and watermelons. Larger trees and palms
have been left standing here and there and provide shelter from the sun and rain.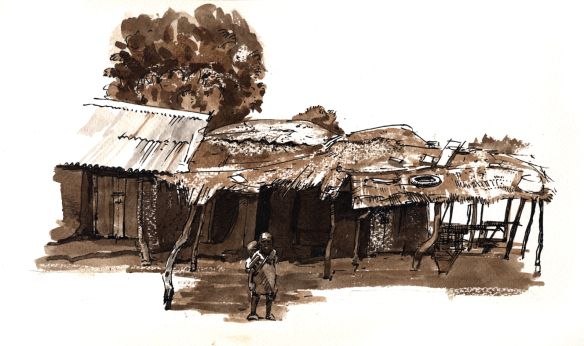 The blue horizon of higher ground is covered in rocky woodland and bushy scrub. The occasional worker in the fields, termite mounds and strange trees attract my attention as I take all this in. Some trees have the look of a baobab, cartoon-like with bunches of leaves on the end of fat branches and even fatter trunks. There are cattle egrets, rollers and kestrels, swallows and swifts, and I imagine the leopard, caracal or jackal that may be lurking in the distant rocky outcrops, staying out of site until the end of the day.
Roadside compounds are enclosed with neat mud brick walls and rustic wooden hurdles. There are lean to shelters and canopies with benches underneath for socialising, mostly in the early evening. Looking past the pile of discarded tyres and plastic litter I see that inside the walls there are round, thatched mud brick huts of varying sizes raised off the ground. I allow myself to imagine that this stockaded community style is necessary to protect livestock from wild animals. May even be true.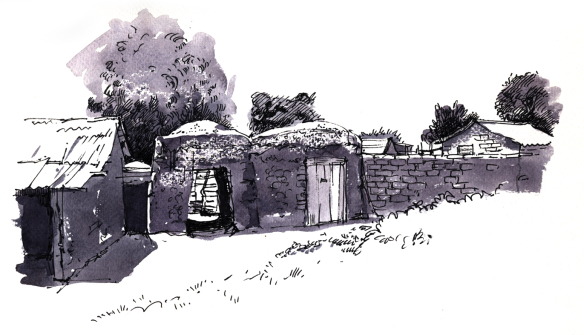 We slow down to make way for cattle and goats being herded down the highway by Fulani men and boys. Traditionally dressed with long cotton gowns and pointed straw hats, their long walking sticks are used to encourage their red Sanga cattle to keep moving. The goats follow the cattle, and some kids that are too small to keep up are carried. Two men lead camels which are fully loaded with all the equipment the group need, for these are truly nomadic tribesmen. Some Fulani, or Fula people have settled, and as an ethnic group they are spread across many African countries. There are about 7 million in Nigeria.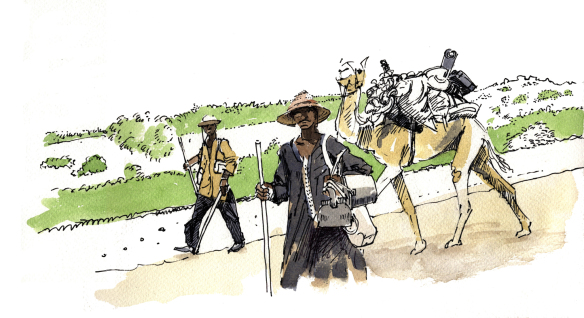 Eventually we turn off the main road onto a dirt track for a hundred yards to a corral of wooden hurdles where some men are waiting in the shade of a small tree. After a brief discussion, and a much needed leg stretch for me, a tall, thin middle aged man with prominent cheek bones and a pencil moustache leads us on his machine to the
first mine.