Get out there and do it: when the weather looks unkind – too dull, too dark, too cold –
go anyway, something invariably turns up that you would otherwise miss.
In a quiet country lane nearby I parked up and strolled a few yards along the road looking this way and that for a nice composition to reveal itself, and stopped just past a tree lined bend. The sky was clear, the sun had gone down leaving a cool transition between coral red, orange, gold and duck egg green, turning imperceptibly to cobalt and then indigo blue above my head. A hunting barn owl coursed up and down a metre or so above the long grass meadow, then up over the willows and on to the next patch, minutes later appearing again to try it's luck one more time. I made a rapid pencil sketch on the spot, and tried to do something with it back indoors.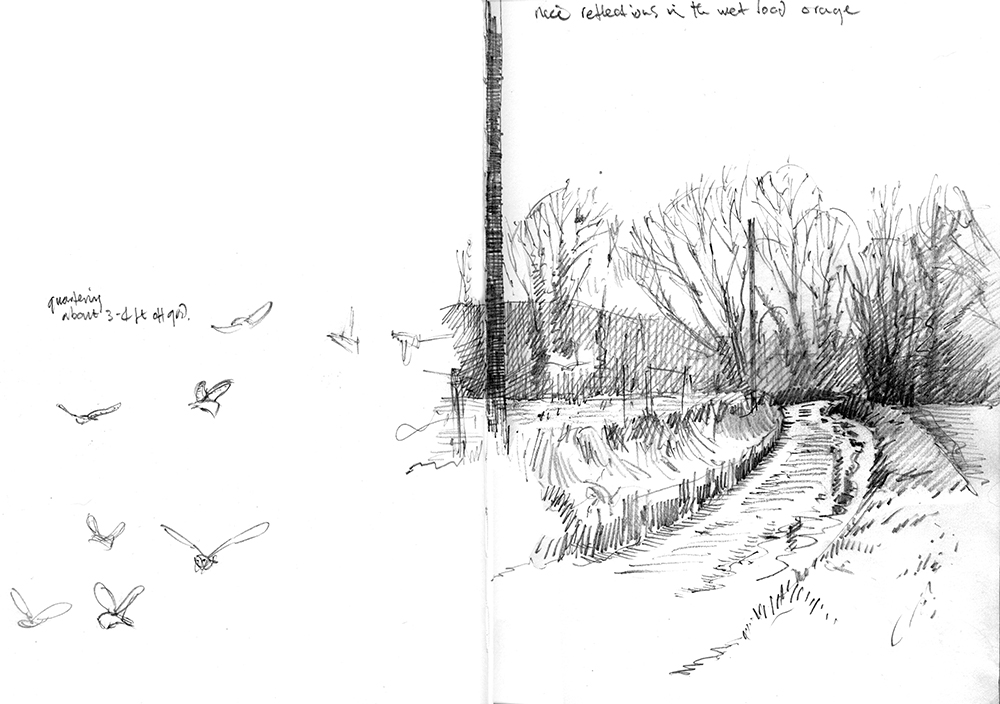 I started out thinking I would produce a coloured ink drawing but almost from the start it was not going well. Persevering, I ended up working over the whole thing in oil pastel and although I like the result insofar as it conveys my excitement at the colour, the feeling of cold air on my face and the fast approaching darkness (and seeing the owl of course), it wasn't the picture I had in my mind's eye…a situation I'm sure many artists find themselves in from time to time!