On a sunny spring day in the UK, there are many colours and sounds that take you back, sometimes to childhood, sometimes just to last year. This bench is where I've had many
a strategy meeting or just a gossip over a cup of coffee, or tea and a sandwich. Like an outdoor conference room. These days it's a place of quiet reflection on what is gone, and what can be.
With so much visual excitement, the riot of orange on the Berberis, the pink and green of the flowering blackcurrant, the golden conifers thrown forward by the copper beech tree in the background, I couldn't resist a quick rendering of the scene. It was all too easy to get distracted and want to include everything. I started to fiddle. This is invariably fatal with watercolour, laying a wash and getting its value right first time is a hard lesson to learn. Still, I was only really interested in the journey past the shrubs and across the recently mown, sun drenched lawn, down to the bench beyond the long grass.
A quiet place, and a very personal picture.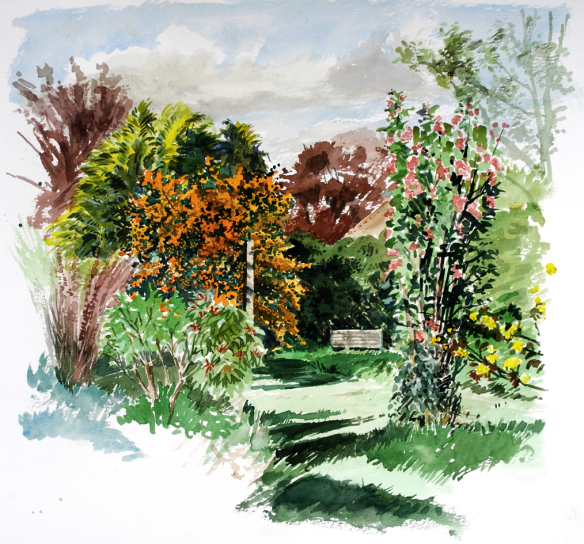 Across from the bench, in the far corner of the garden, is a neglected old toolshed.
The door has been nailed shut, and the ivy is overgrowing it, now even creeping across the broken window.
I was really attracted to the colour combination of the neighbour's cherry blossom against the clear blue sky, the dark reds of the cherry plum tree and the fresh greens of the suckering cherry saplings in the foreground (no garden boundaries recognised by this tree). I've been meaning to do something with this for a couple of years now. The effect I was after was that of dappled sunlight and shade in a busy corner, but painting suggestively, without detail at all. I'm quite pleased with this one…forthright but restrained. I'll even forgive myself for using pure cerulean …