July 2nd 2010: A warm, sticky night. The heavy scent of honeysuckle in the air attracts a pine hawk moth, which can't resist the light inside and flies indoors through the open patio doors. Conveniently resting on a flat surface, I take the opportunity to do a quick sketch with a biro and make some notes. Letting the moth outside, cupped in my hands, the strength of its flapping wings against my palms was so strong, it felt more like a small bird than an insect!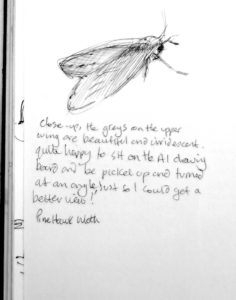 Next evening, the moth was back, at dusk, just when it is hard to see straight ahead, but the skyline is sharp and the contrast is clear. Flapping then gliding, then flapping again, the moth danced over the honeysuckle in silhouette. A beautiful sight. I decided to make an illustration showing the moth at an exagerated scale in a suburban setting. Using charcoal would emphasise the soft atmosphere of dusk, when all edges seem to merge. The overall effect I was after was that of a period book illustration. After working out the layout of the drawing on a small scale in my sketchbook, I settled on a composition and drew quick studies of each of the main elements, honeysuckle, chimney, tiles.
The picture is all about atmosphere though, so I was careful not to include too much observable detail.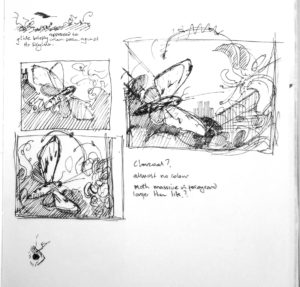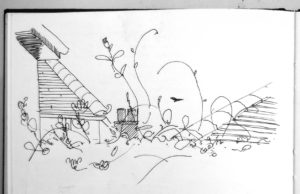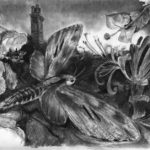 Close up, the beautiful irridescent greys and subtle browns of this animal were stunning,
effortlessly gliding acrooss the dusk skyline.  This is the picture of that moment.