Marden Hill, Hertfordshire
Marden Hill, between Welwyn Garden City and Hertford. An area of largely unused paddocks and meadows popular with dog walkers and the occasional birder. Overhead, Red kites are now common, and Ravens soaring in pairs is no longer a rare site, as in much of lowland Britain. I was fortunate to disturb a Redstart on autumn migration in the low, berry laden brambles that cluster around some remaining fence posts. Nuthatches quip in the high beech trees and oaks that sit on the high ridge, exposed to the wind.
Still very warm in September, the exposed trees on the edge of the wood drew my attention. Several trees had fallen, leaving a gap that threw those that remained into relief against the sky. They seemed to stand defiantly at angles competing with each other, rocking in the breeze.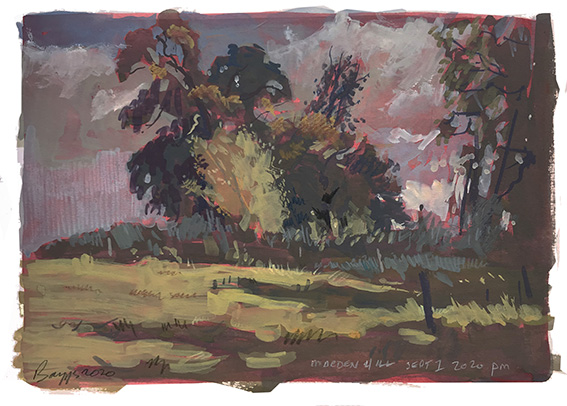 I made this quick sketch in gouache and coloured pencil on a red ground, aiming to record the late summer afternoon mood.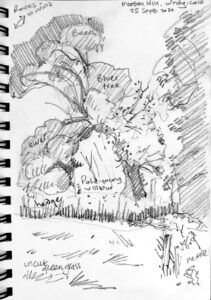 Going back several times to the same spot, producing a pencil sketch and then painting in oil on card (old backs of drawing pads, primed with acrylic, can be very useful when you are fresh out of 'proper' canvases or panels).
The afternoon sun streamed through the wood, catching the top of the young tree in front of the tall, swaying beeches.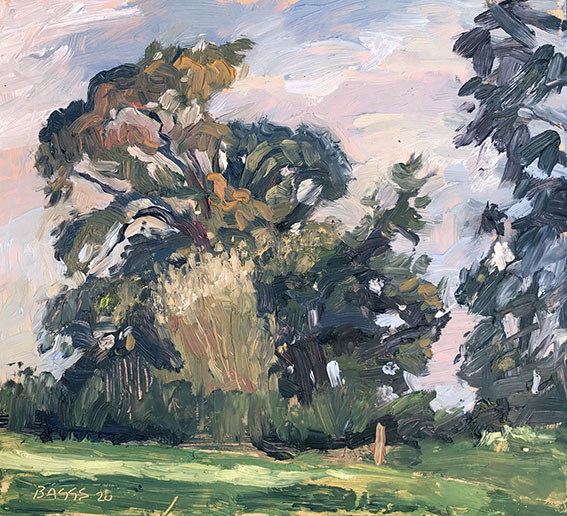 I like to visit the same location in different weather conditions, time of day and even seasons, to get to know it well – picking out likely spots to paint or draw. This area, with its scattered mature trees planted with intent many years ago, now has the look of a forgotten landscaped park.
There will be more to be had here.