Taking a break from the current spell of plein air oil painting, I switched mediums to work up the sketches I had made of pike, lurking almost motionless in the weeds. Difficult to spot as they look just like debris hanging midway in the water column. Irregular stripes along the body mimic waves of refracted sunlight. Perfect camouflage.
I used an old ink drawing of a landscape that had 'failed' some time ago and set about tearing up pieces of it being careful to include dark/light patterns or irregular marks. A patch of winter trees against the sky would serve as weeds in this collage. Laid out in an A3 sketchbook, the angle I chose for the fish is pretty much how I viewed it from the bank, and helps to suggest the fish is just hanging around at a slightly upward tilt.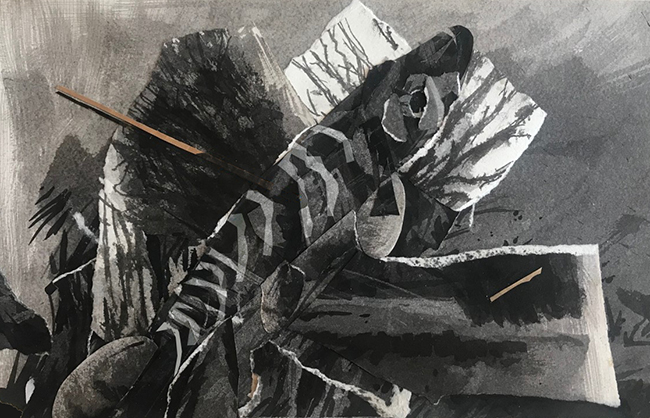 The only colour in the picture is the brown paper strip, complete with shadow, strategically placed to suggest the water surface. I find working this way very liberating, placing the pieces where it feels right, and not being too bothered about the literal.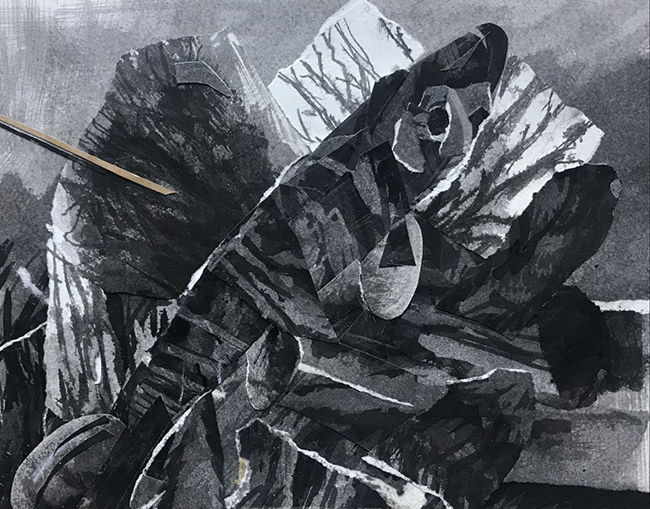 The cropped version adds a little dynamic back into the composition. I reigned in the dappled stripe effect and added a suggestion of a shadow on the silty pond bottom.