It's been extraordinarily dull and cold coming into spring. Questions have been asked.
This drawing was made early in the evening on Sunday into the light, with the sun obscured by the near hedge. I used old waterproof black ink on watercolour paper which I lightly sprayed with water. Putting the big shapes in, such as the foreground hedge, the ivy covered trees in the middle distance and the wood far across the field, allowing the ink to do its own thing filling in here and there, avoiding the water and suggesting tree branches, with a few wet dashes for the clouds hurrying by to finish off. Later I added the blue green watercolour for the newly sprouted crop, and brighter, yellower green for the sunlit grass.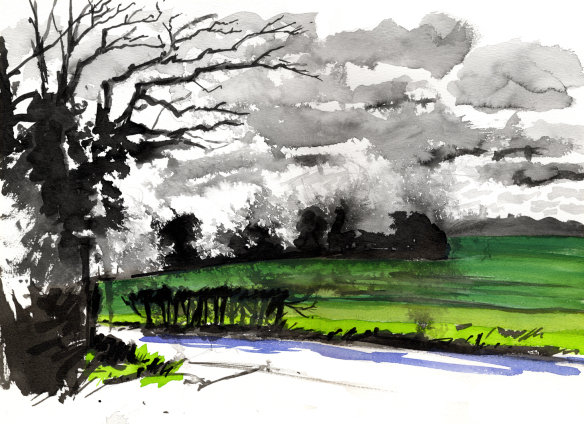 This drawing was produced in March, also in Hertfordshire. It was going to be a watercolour, but as the light was fading I decided to carry on in pencil. I enjoyed working on a larger scale and with the drawing on an easel, instead of balanced on my knees. The result of this freedom seems to be a looser, more responsive drawing and I'm a bit reluctant to take it further.